글쓴이 :

한양대학교3

날짜 :

2021.11.12 10:32

조회 수 :

647
2022 Winter AIESEC in HUFS
Surprise! AIESEC in HUFS brings good news! 'Treeger Project' is back!

AIESEC in HUFS is recruiting volunteers to join the Treeger Project in this Winter Vacation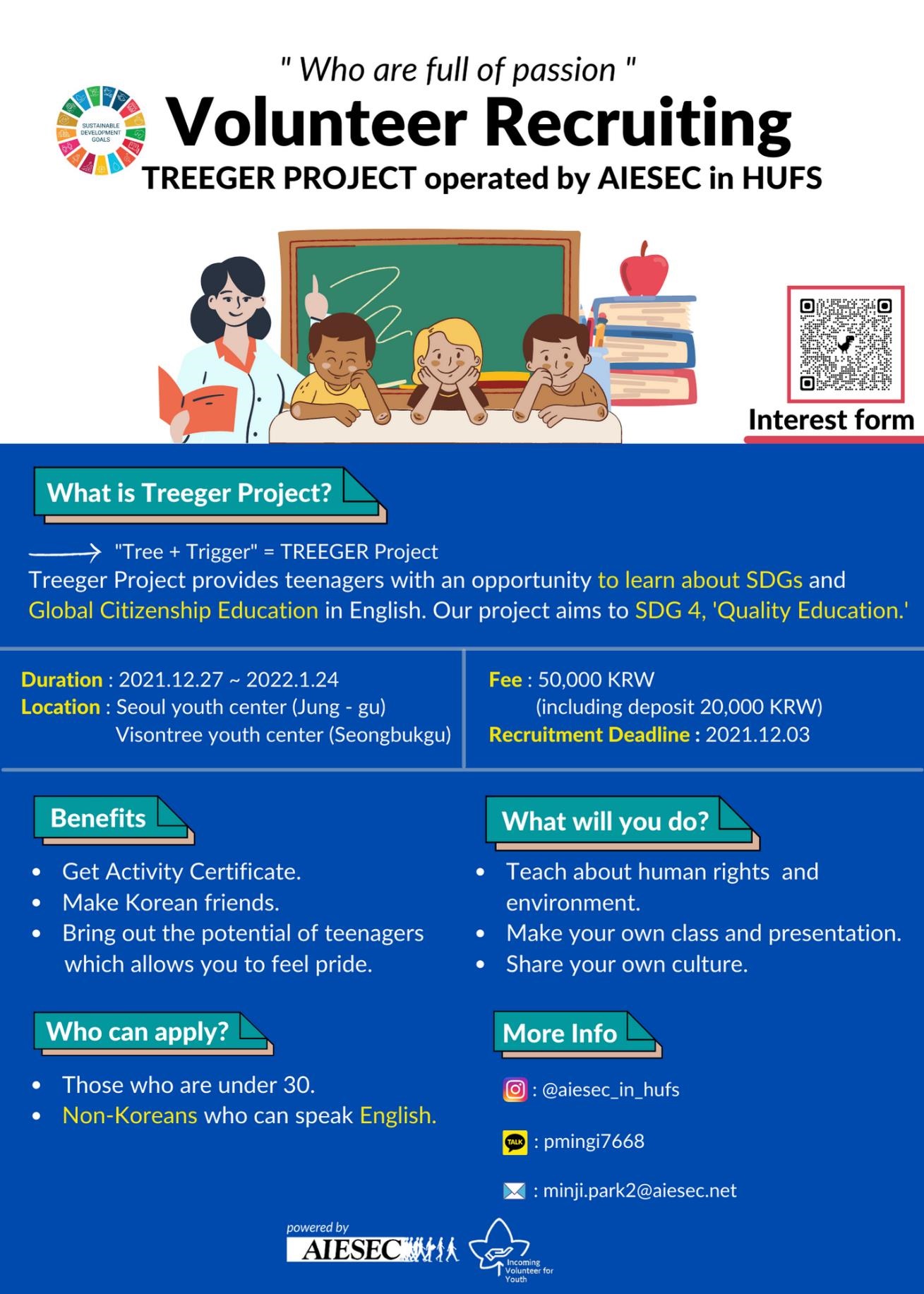 ✅ Treeger Project
This project provides teenager to learn about SDGs and Global Citizenship Education in English.
This project deals with human rights and environmental issues based on SDGs. (The goals announced by the UN)
You can teach students and have time to think about social problems with students
✅ Benefit
Bring out the potential of teenagers which allows you to feel pride
Chance to share your own culture and learn Korean culture
Get 'Activity Certificate'
✅ Let's make your own classes together and educate Korean teenagers about the international community!
✅ How to apply?
Recruitment Deadline : 2021.12.03
Interest form → Application → Interview
These steps(Interest form) will help you apply for the right project. After submitting the application, receive an email from AIESEC in HUFS to schedule the interview. If you pass the interview, you can join our project
✅ Duration and Fee
- Project preparation period: 2021.12.27 ~ 2022.01.09
- Project activity period: 2022.01.10 ~ 2022.01.24
- Fee : 50,000 KRW (includes deposit 20,000 KRW)
✅ More information
Kakaotalk ID: pmingi7668
Email: minji.park2@aiesec.net
instagram: aiesec_in_hufs
Interest Form :
https://docs.google.com/forms/d/e/1FAIpQLSfqbmndu_CTAGxcHs1SBjstOuD1fTd4sPum-1_2tcLyQiemLA/viewform
Promotion related to the project will continue to be updated through Instagram @aiesec_in_hufs, so please pay attention
There's not much time left. Hurry up and apply for this program❗
AIESEC in HUFS is looking forward to your performance in the project✨